WELCOME TO MASTERMINDINC.NET!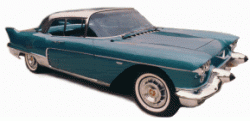 Mastermind Inc. was founded in 1980 by Michael P. Rizzuto. Michael always had an extreme passion for classic cars, even in high school and during his many years in technical school, where he managed to acquire an extensive education in Aircraft Technology. Subsequently he retained employment in the Aerospace Industry, first at the famous top secret Lockheed Skunk Works in Burbank Ca. (If he tells you what he did there he will have to kill you), then at Flying Tigers Air Frieght (Now FED EX). After six years of aircraft training six months of the corporate life was all it took for him to start looking for the door! Soon after, fueled by his passion for classic cars, Michael permanently punched out for the last time. Opting instead for a life of flying a bit lower to the ground in his tail finned Cadillac's. The following pages are a chronicle of Michael's life long passion for classic cars of the 50's, and especially the Eldorado Brougham by Cadillac. 3/4/16



---
PLEASE READ ORDERING INSTRUCTIONS VERY CAREFULLY BEFORE USING THIS SITE TO PLACE ORDERS. IT WILL MAKE ALL OUR LIVES MUCH EASIER IF YOU DO THIS! THANK YOU VERY MUCH.




1957-58 CADILLAC ELDORADO BROUGHAM FENDER EDGE SEALS

57EB12-008

Fits 57-58 Eldorado Brougham Only, Pair L&R

PREVIOUSLY OUT OF STOCK FOR WELL OVER 5 YEARS! Now finally available again is a part that nearly every 1957-58 Brougham owner needs to put the finishing touch on that engine compartment detailing.

These are extremely accurate reproductions of the rubber parts that fit on each fender, both L&R side. These are designed to seal against the hood when it is closed. The objective is to keep water out, away from all the electrical relays, and to reduce engine compartment noise. If our parts were not so much better than the factory parts I could say they were exact replicas of OEM. For all intents and purposes they are exact copies, but like many of our products the only difference is far superior quality, fit, and much greater attention to detail!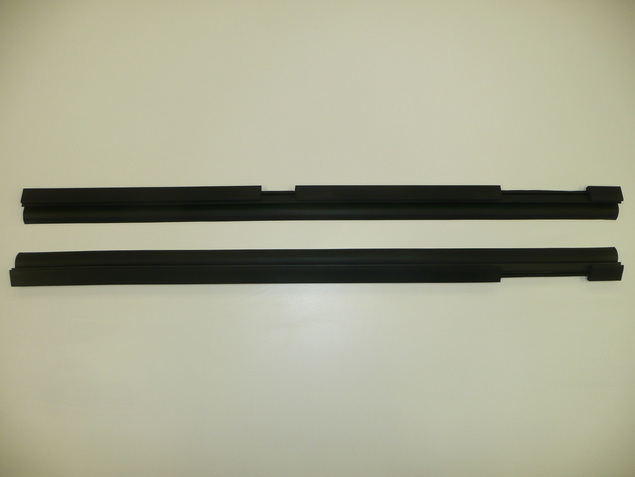 57EB12-008 57-58
ELDORADO BROUGHAM FENDER EDGE SEALS
YOU TUBE VIDEO LINK:
http://youtu.be/NERPYmRhUJE
In my 30 years of specializing in this I have never seen a 57 or 58 Brougham that does not need these parts!
Many Brougham Owners have never seen these parts before, or even know they exist. Most who are aware of these parts have no idea what they are supposed to look like because the vast majority of them fell of the cars decades ago.
It is the rare Brougham that still has the OEM seals attached. Often if there is anything at all in this area it is typically the incredibly low quality-high price reproductions previously sold to unsuspecting Brougham owner's by the company who's name can be confused with a ferrous metal, and everyone else in the Cadillac parts business, for the last 30+ years! You can easily tell if you have these "Theme Park Rodent" repair parts because they will tend to fall off the car every time you close the hood! (Some are incorrectly glued on in a futile attempt to get them to fit right, which does not work either) The enclosed "You Tube" video will explain more about this mess.
By sharp contrast our parts look and fit perfect. That is because they are the correct (Exact) profile, and are very accurately notched to fit around the fender brackets. They will fit on the car perfectly right out of the box! A huge time saver all by itself. Then you must keep in mind that if you tried to do this notching yourself, without the correct set ups we have, on the aforementioned "Theme Park Rodent" version of these parts you will butcher them mercilessly. They will look a mess and still not fit right! As an extra added bonus our parts will actually stay on the car when you close the hood, even without incorrectly gluing them. Rubber parts that actually fit properly, what a concept!

I know most old car owners are not accustomed to rubber parts that actually fit properly, but this is something I am very adamant about for my own cars. As usual I am not content to have just any old part to fill a hole. If it is not the right part I would much prefer to have nothing! The wrong part has zero value!

Finally after many years we now have a very limited supply of very high quality parts ready to supply to our customers. As most of you know I typically make things like this in limited runs. After which there are often many years of drought, where items are out of stock for a long time, in between runs. A lot of you have been asking me for these parts for many years. THIS IS LAST CALL! Since I will be slowing moving toward retirement over the next few years this in very likely to be the last time I will make these parts. I have so many other projects I want to get to so it will likely be a very long time before any possible successor to me will make more of these parts. If you are going to need these impossible to find parts in the near future there is no time like the present! Thank you for your consideration of our offer. It is always appreciated greatly.

Sincerely,

Michael Rizzuto

PS: The attached YouTube Video will show a picture of the aforementioned "Theme Park Rodent Repair" version of these parts, which have been gumming up the works for over 30 years now! As you will see these are a complete joke! However they become a lot less comical after you have to pay for them, then later feel compelled to throw them in the trash!
ORDERING INFO:
(All prices listed in USD)
Please click on the appropriate hyperlink below and you will be taken directly to our Paypal invoice system where you can make your purchase quickly and efficiently. (In other words without waiting for me to get to it!) If links do not connect on the first try please cut and paste them into your browser. NOTE: IF YOU DO NOT HAVE A PAYPAL ACCOUNT YOU CAN EASILY USE YOUR VISA, MC, AMEX, ETC. TO PAY THROUGH THE PAYPAL SYSTEM.
1957-58 CADILLAC ELDORADO BROUGHAM FENDER EDGE SEALS
57EB12-008 Fits 57-58 Eldorado Brougham Only, Pair L&R
FOR OUR OUT OF STATE (EXCLUDING AK AND HI), CANADIAN, AND MEXICAN CUSTOMERS ONLY:
https://www.paypal.com/cgi-bin/webscr?cmd=_s-xclick&hosted_button_id=MKZLTZC5KRVL8
FOR OUR IN STATE CALIFORNIA CUSTOMERS ONLY:
https://www.paypal.com/cgi-bin/webscr?cmd=_s-xclick&hosted_button_id=DM69JKQWBBTTG
FOR OUR INTERNATIONAL, ALASKAN, & HAWAIIAN CUSTOMERS ONLY: (All prices listed in USD)
https://www.paypal.com/cgi-bin/webscr?cmd=_s-xclick&hosted_button_id=TRWAFFSMY6ADC
INTERNATIONAL SHIPPING PRICE IS WITHOUT INSURANCE via USPS in order to keep the cost as low as possible. I am sorry to say that our international customers must assume all risk of loss to shipment in order to obtain this low shipping price. Cost with insurance would be approx. 3X what is shown on invoice. Please call or e-mail to order if this is your preference.
NOTE: Sadly convenience is coming at a very high price these days, which has forced us to do one of two things as a result. We can either raise prices 5% across the board to cover the ridiculously high fees involved in operating this new automated system, or we will have to collect an additional 3.5% (4.5% on International orders) of the invoice total on all orders if you wish to have the fastest possible service. We chose the latter so it is less expensive for you, and so you can see where your money is going. Thank you for your understanding.
---
BARN FIND OF THE YEAR!
Greetings To All My Fellow Cadillac Enthusiasts,
Even thirty years ago, when I first started getting interested in 57-60 Broughams, only on extremely rare occasions would you run across something like this!
These days it is virtually unheard of! Enclosed are a few pictures of a 58 Brougham that has to be the barn find of the year! More
MASTERMIND INC.

Michael P. Rizzuto/President
32155 Joshua Drive
Wildomar, California 92595 USA
(951) 674-0509
Mprizzuto@aol.com
---